See the world differently. Tell your story.
Pitch your plan or advise the teams on Sept. 13, 2022.
We welcome new presenters from any field, location or stage of development. Teams receive constructive feedback on their business plan summary and slidedeck beforehand, either a video recording of their 10 minute virtual pitch or a 20 minute in-person slot to pitch at Bennett Jones, an evaluation by expert advisors, new connections and leads for funding.
Presenters on September 13 include
Anthony Steenbergen, Founder, CannaBiscuit Canada Ltd.
Balondona Aurelien, Chief Engineer, Baüne
Chris Cassin, CEO, Zero Point Cryogenics
Daren Trinh, COO, MecSimCalc
Esmat Naikyar, CEO & Co-Founder, Naiad Lab Inc.
Franc Kamugyisha, CEO, Ecoplastile
Gino Genson, cofounder/CEO, re(source) energy
Jenna Galloway, Founder/CEO, Wymbin, Fledge
Kim Solez, President and CEO, JustMachines Inc.
Lulu Mashonganyika, Founder, LiiT Care Connect Inc.
Mark Olson, President, Flokk Systems Inc.
Randy Duguay, CEO, Health Gauge
Zhongyi Quan, CEO, Electronic Grid Systems

Note: We ask presenters to share their business plan summary and deck at least two weeks before the event to gain feedback on how to strengthen their pitch. Presenters should check out our Presenter Guide.
Presenters on May 17, 2022.
These leaders of startups and SMEs are presenting their plans to a supportive panel of advisors from business, industry and investment circles.
Health Session chaired by Zachary Klarenbach 

Environment Session chaired by Caitlyn Ledohowski

Digital Session chaired by Aishee Saha
Presenters on February 15, 2022:
13:00 Tarek El-Bialy, Professor, Division of Orthodontics, University of Alberta
13:10 Mark Olson, President, Flokk Systems Inc.
13:25 Pankaj Purwar, CEO, Farmer's Legacy Biotech

13:35 Kevin Hull, CEO, Emergent Waste Solutions Inc.
13:50 Simba Nyazika, CEO, Lenica Research Group

14:00 Aru Narendran, Professor, University of Calgary
14:15 Shannon Phillips, Director Unbounded Thinking

14:25 Anthony Steenbergen, CEO, CannaBiscuit Canada Ltd.
14:40 Daniel Alessi, CEO and Salman Safari, CTO of Recion Technologies

14:50 Ali Khajehoddin, Associate Professor, Electrical & Computer Engineering Dept, University of Alberta
15:05 Don Hallett, Founder, Wildfire Innovation

15:15 Oleh Wowkodaw, President, Blue Eden CleanTech Solutions Inc.

13:25 Michael von Hauff, Co-Founder, Simline.io
Previous Keynote speakers:
Sheetal Mehta Walsh advises tech companies looking to access smart venture capital and corporate partners in order to expand globally, her positions include Chief Strategy Officer, Government of Alberta; Advisory Partner, Atara Partners; Board Member, Innovate Edmonton; President & Founder, Shanti Life; Founder, Soho Ventures; she was Board Adviser for Virtual Visions, Waterhound Futures, Luxsonic Technologies, GOAL Global; CEO, Innovative Social Ventures, and Director of Venture Capital Relations, Microsoft. MSc, London School of Economics; BA, UAlberta.

Yasmine Roulleau mobilizes capital for social impact and scales companies from inception to exit, her positions include CEO, Striven Consulting, Founder, SAMA impact Ventures Inc., Strategic Advisor Partner, GetFresh Ventures, Executive in Residence, Foresight Canada and Ambassador, International Dealt Gateway. As a technology co-founder, she has straddled the gaming, healthcare, and real-estate spaces; her ventures include Reta, GameSecure, V4D and DevTest, some of which she led to international joint ventures. MBA, UBC Sauder School of Business.
Keynote speaker Q&A moderated by Zach Klarenbach.
Business plan pitchers on Nov 23, 2021:
Luisa Orsini, CEO, Daphne Water Solutions is scaling applications for a water bioremediation and waste management system, with demonstrators currently running and showing scalability.
Kevin Hull, CEO, Emergent Waste Solutions Inc. is deploying its modular Advanced Thermolysis System for indoor agriculture and conversion of waste carbon into feedstock.
Mark Olson, President, Flokk Systems Inc. is developing a system for beef herd management and traceability reporting.
Catalina Vasquez, COO, Nanostics, which is able to diagnose disease from a simple blood test by combining a highly sensitive extracellular vesicle detection platform and advanced machine learning algorithms.
Hagay Levy, CEO, Iluria is developing clinically validated software using machine and deep learning to monitor changes in physiological markers, and aims to support caregivers and families for ADHD management & treatment decisions.
Abdullah Sarhan, Cofounder & CEO of RetinaLogik aims to prevent blindness by pioneering accessible, affordable, and powerful vision screening technology.
Aru Narendran, Professor, University of Calgary, focuses on the development of a "trial-in-a-cell" approach for future personalized cancer treatment in children.
Leonard Wiebe , CSO, Hermay Labs Corporation is developing products for anti-cancer drug discovery using PROTAC technology, skin depigmentation and melanoma treatment, and water filtering materials to remove pollutants.
Ty McKinney, CEO, 8 Bit Cortex is creating a mental wellness data app for individual employees and burnout prediction algorithms for pro-active management of psychological wellbeing in the workforce.
James Cook, Project Manager, Tricca Technologies Inc. develops metabolite sensors and aims to make the world a better place by giving everyone access to accurate medical screening
Shelvie Fernan, CEO of Fly and Fetch Inc. connects people from all over the world by providing a more efficient and affordable shipping service.
Peter Kombouras, CEO, Alkemy Environmental, a clean technology company that recycles industrial waste into structural grade lightweight concrete aggregate.
Sreeshailam Aare, CEO, HAARES ChemTech Inc. provides custom synthesis of complex molecules including drug molecules.

Edmonton Mayoral Candidates on Economic Growth
Hear the platforms of Edmonton's leading mayoral candidates. We asked them to discuss how we can strengthen and diversify the economy. Each candidate was given 20 minutes to address the audience and respond to questions. Kim Krushell, Cheryll Watson, Michael Oshry and Amarjeet Sohi present how they plan to support entrepreneurs and economic growth.


Federal Leaders Forum on Sustainable Growth
With an election looming in Canada and important policy differences between the parties, we invited all the major parties to present their positions and respond to questions at our Federal Leaders Forum on Sustainable Economic Growth on September 17.
Video of Adam Brown & Heather McPherson talks:
Adam Brown, Liberal MP Candidate for Edmonton West, discusses how he aims to help diversify Alberta's economy and raise the tide for all innovators across the country. He is CEO for Nanolog Audio Inc and was Principal of Striker Metal, a Juno Award Winner and Top 40 Under 40.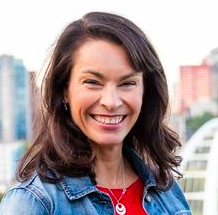 Heather McPherson, NDP candidate for Edmonton Strathcona, Member of Parliament for Edmonton Strathcona discusses her platform and the issues facing Edmontonians and Canadians. She was previously Executive Director, Alberta Council for Global Cooperation, Program Officer, Canada World Youth; Volunteer Team Leader, Médecins Sans Frontières.
Video of Melanie Hoffman's presentation:
Melanie Hoffman, Green Party Candidate, Edmonton Riverbend presents the need for a circular economy. She is Program Manager, Capital Region EcoSchools; Founder, Drawdown Alberta; Owner, HoffFull Solutions - Climate Solutions Education Consulting. Previously Faculty Member/RA, King's University.
Business Plan Pitch by Ty McKinney:
You are encouraged to apply and obtain free expert advice from members of our panel of 190+ business mentors and investors. Over 240 teams have pitched at our meetings and have given us positive feedback on their experiences. Our alumni have raised >$140M in the past 3 years. New and returning presenters and advisors are welcome to register.
Our aims are to play a positive role by:
1. building trust and mutual understanding to ensure sustainable and rewarding multi-party relationships,
2. identifying major challenges that require innovative thinking,
3. mapping out precompetitive spaces for open-source collaboration,
4. developing fair and reasonable intellectual property strategies for progression and scalable funding,
5. structuring and optimizing core activities and facilities for supporting innovation, and 
6. increasing data quality, reproducibility and decisiveness while eliminating unnecessary duplication and costs.
We welcome collaborators and partners who are interested in working together to support the innovation ecosystem.
For clarity, DiscoveryLab does not recommend advisors or investors or provide funding, but can make introductions. Each person and company has the responsibility of obtaining legal advice and performing due diligence before signing contracts or taking investments.
Background on DiscoveryLab
DiscoveryLab is an open forum for academics, start-ups and SMEs to explore opportunities to commercialize new technologies and develop their plans to launch new products and services.
Michael Overduin found DiscoveryLab in 2017 based on his experience in running Science Capital as a nonprofit company in the UK since 2010. He leads NANUC and a structural biology lab at the University of Alberta. His research group studies proteins involved in Alzheimer's, cancer and prion diseases, and develops polymer-based nanoparticles and lead molecules for drug discovery.
We organize events each quarter where anyone can pitch their business plan at no cost in private to a panel of legal, business, marketing, financial and investment experts who give independent feedback. Teams are welcome to return to present as many times as they wish as they make progress and develop new needs.
Our panel of 200 advisors offers $3 billion to invest, and there is the potential to attract significant support as well as practical advice and strategic guidance.
Anyone is welcome to pitch their idea and plan to scale their discovery to make a difference to society. Our events book up, so register soon and submit your executive summary to us confirm your slot.
Origins
DiscoveryLab was initiated in order to share expertise and facilities and was launched by Michael Overduin and coworkers with a grant from the John R. Evans Leaders Fund awarded by the Canada Foundation for Innovation, Alberta Innovates, Department of Economic Development and Trade, and the Province of Alberta, as announced at NANUC by the Minister of Science Kirsty Duncan in 2016.