See the world differently. Tell your story.
With an election looming in Canada and important policy differences between the parties, we invited all the major parties to present their positions and respond to questions at our Federal Leaders Forum on Sustainable Economic Growth on September 17.
Adam Brown, Liberal MP Candidate for Edmonton West, discusses how he aims to help diversify Alberta's economy and raise the tide for all innovators across the country. He is CEO for Nanolog Audio Inc and was Principal of Striker Metal, a Juno Award Winner and Top 40 Under 40.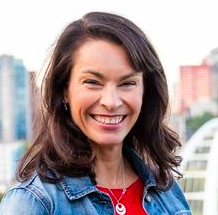 Heather McPherson, NDP candidate for Edmonton Strathcona, Member of Parliament for Edmonton Strathcona discusses her platform and the issues facing Edmontonians and Canadians. She was previously Executive Director, Alberta Council for Global Cooperation, Program Officer, Canada World Youth; Volunteer Team Leader, Médecins Sans Frontières.
Melanie Hoffman, Green Party Candidate, Edmonton Riverbend presents the need for a circular economy. She is Program Manager, Capital Region EcoSchools; Founder, Drawdown Alberta; Owner, HoffFull Solutions - Climate Solutions Education Consulting. Previously Faculty Member/RA, King's University.
Note: DiscoveryLab did invite other candidates including from the Conservative Party several times but there was no response, we operate as an independent organization with non-profit, apolitical aims.
Mayoral Candidate Forum on Economic Growth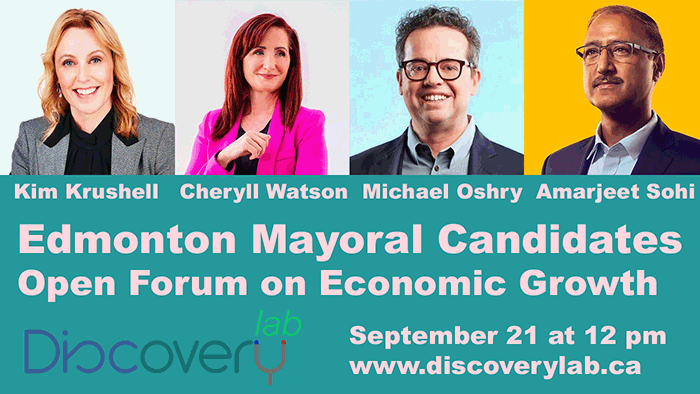 Tuesday September 21, 2021 from 12:00-1:30pm MST. Join us to listen about the platforms of Edmonton's leading mayoral candidates, ask questions and discuss how we can strengthen and diversify the economy.
Each candidate will be given 20 minutes to address the audience and respond to questions entered into the chat space. Presenters include:
Kim Krushell, built two tech companies from the ground up, is President of Lending Assist and E.P. Rees Inc., Director and Vice Chair of University of Alberta Properties Trust Inc. and served as Edmonton City Councillor, Vice Chair of Women and Money and chair of the Blatchford Business Advisory Group.
Cheryll Watson, Co-Chair of Global Senior Policy Maker Forum at Startup Genome, previously founder and Vice President at Innovate Edmonton, Co-Founder of the Alberta Innovation Corridor, Director at Intuit, Fundraising Chair at Zebra Child Protection Centre and Board Member at Edmonton Arts Council.
Michael Oshry, Founder of FIRMA Foreign Exchange, CEO of Blue Pen Capital; served as Edmonton City Councillor, created Remedy Cafe; board member of University of Alberta Hospital Foundation, The Business Link, business mentor via the Venture Mentoring Service.
Amarjeet Sohi, former Edmonton City Councillor, championing projects including Valley Line LRT, P3 procurement process for public-private partnerships, recreation centers, libraries, Rogers Place Arena; previously Federal Minister of Infrastructure and Communities and Federal Minister of Natural Resources.
Business plan presenters on Sept 21:
1:30 Introductions
Session 1 chaired by Robb Stoddard, BioAlberta
1:40 Doug Klein, Family Physician, CHANGE Health Alberta
1:50 Hagay Levy, CEO, Iluria
2:00 Ron Mills, CEO, Tevosol
2:10 Break
Session 2 chaired by Elliott Cudmore, TSGI
2:20 Piyush Kumar, CEO, WWiKY BioSciences Inc.
2:30 Oliver Bathe & Brandon Friedt, CEO & CFO, QualisureDx
2:40 Amir Nezhad, Director, CriticareDx
2:50 Break
Session 3 chaired by Jennifer Schab, PEO Canada
3:00 Kate Popiel, CEO, What's the Deal?
3:10 Aaron Barr, CEO, Canadian Rockies Hemp Corp.
3:20 Ellisha Bourne, Founder & CEO, Gru Organics
3:30 Break
Session 4 chaired by Darren Bolding, Natural Products Canada
3:40 Nafaa Haddou, CEO, Nu Terra Labs Ltd
3:50 Kevin Hull, CEO, Emergent Waste Solutions Inc.
4:00 Mathew Diggle, CEO, TestnTravel
4:20 Discussion and close

Those people building businesses are welcome to present at our quarterly events. Startups, new ventures and SMEs in any sector, location or stage are invited to pitch on, e.g. novel agricultural, artificial intelligence, biotech, medical, energy or environmental technologies.
Join us by advising entrepreneurs and innovators as they seek to develop new solutions that improve the state of society, our health and the planet. The zoom link will be shared with registrants on the morning of the event. Moderators include Michael Overduin and Brittany Wiseman.
Register for any sessions on Sept 21 (places are limited)
Presenters on June 22 included:
1:00 Franc Kamugyisha is CEO & Founder of Ecoplastile Limited, a waste management company based in Uganda.

1:10 Laura Patterson-Fortin, Research Scientist at BioLargo Water, which develops wastewater treatment systems.

1:30 Tanveer Ahmad, Director/CEO, AMRICH-Inc, which is developing industrial applications of chitosan materials.

1:40 TJ Zastrow, Founder, Thesis2, is helping small indie brands to find customers and to launch virtual local markets.

1:50 Tonya Marier, Founder, Flarechain Technology, which aims to reduce green house gas emissions caused by flaring and usefully repurpose that energy.

2:00 Audrey Bond, Founder of Vaultt, an information management platform for families.

2:20 Hagay Levy, Founder & CEO, Iluria Ltd on a remote patient monitoring for mental health disorders.

2:40 Jeremie Bourqui, CEO, Wave View Imaging is developing a microwave signal system to measure breast tissue properties.

2:50 Kim Solez, President and CEO, JustMachines Inc. a centre for futurism in medicine based at the University of Alberta.

3:00 Amir Sanati Nezhad, Founder, Critcare Dx offers lab-on-chip detection of biological, environmental, diagnostic and pharmaceutical molecules.

3:10 Michael Stewart, President & CEO, IMBiotechnologies Ltd is developing first-in-class biodegradable embolic agent for conditions including cancer.

3:20 Rineke Steenbergen, Research Scientist, Medical Microbiology and Immunology Dept, UAlberta on a LKS hepatocyte cell line

3:30 Mike Kolber, Professor, Family Medicine UAlberta on EMPRSS for improving patient outcomes and generating health system efficiencies

3:50 open discussion.
Presenters on April 22, 2021 included:
Session 1 Chair: Val McCarty, Kudosee

14:00 Grant Kelba, Regenitech Canada
14:20 John Ralston, CEO and Founder, PROTXX Inc.
14:40 Michael J. Weickert, PhD, CEO, Pacylex Pharmaceuticals

Session 2 Chair: Ana Clementin, Health City

15:00 Barry Farquharson, CEO, Nova Green Inc.
15:20 Ty McKinney, Co-Founder, 8 Bit Cortex
15:40 Danika Kelly, Co-Founder, My Normative Inc.

Session 3 Chair: Kim Nguyen, Startup Advisor

16:00 Stephen Ferry, Director, Hermod Medical
16:20 Carlos Cervera, Medical Director Transplant Infectious Diseases, UAlberta
16:40 Mathew Diggle, Founder & CEO, TestNTravel


Ty McKinney pitched 8 Bit Cortex at DiscoveryLab and is looking for advisors as he and his team look to address a challenge identified at NeuroNexus.

You are encouraged to apply and obtain free expert advice from members of our panel of 180+ business mentors and investors. Over 240 teams have pitched at our meetings and have given us positive feedback on their experiences. Our alumni have raised >$130M in the past 2 years. New and returning presenters and advisors are welcome to register.
Our aims are to play a positive role by:
1. building trust and mutual understanding to ensure sustainable and rewarding multi-party relationships,
2. identifying major challenges that require innovative thinking,
3. mapping out precompetitive spaces for open-source collaboration,
4. developing fair and reasonable intellectual property strategies for progression and scalable funding,
5. structuring and optimizing core activities and facilities for supporting innovation, and 
6. increasing data quality, reproducibility and decisiveness while eliminating unnecessary duplication and costs.
We welcome collaborators and partners who are interested in working together to support the innovation ecosystem.
For clarity, DiscoveryLab does not recommend advisors or investors or provide funding, but can make introductions. Each person and company has the responsibility of obtaining legal advice and performing due diligence before signing contracts or taking investments.
Background on DiscoveryLab
DiscoveryLab is an open forum for academics, start-ups and SMEs to explore opportunities to commercialize new technologies and develop their plans to launch new products and services.
Michael Overduin found DiscoveryLab in 2017 based on his experience in running Science Capital as a nonprofit company in the UK since 2010. He leads NANUC and a structural biology lab at the University of Alberta. His research group studies proteins involved in Alzheimer's, cancer and prion diseases, and develops polymer-based nanoparticles and lead molecules for drug discovery.
We organize events each quarter where anyone can pitch their business plan at no cost in private to a panel of legal, business, marketing, financial and investment experts who give independent feedback. Teams are welcome to return to present as many times as they wish as they make progress and develop new needs.
Our panel of 200 advisors offers $3 billion to invest, and there is the potential to attract significant support as well as practical advice and strategic guidance.
Anyone is welcome to pitch their idea and plan to scale their discovery to make a difference to society. Our events book up, so register soon and submit your executive summary to us confirm your slot.
Origins
DiscoveryLab was initiated in order to share expertise and facilities and was launched by Michael Overduin and coworkers with a grant from the John R. Evans Leaders Fund awarded by the Canada Foundation for Innovation, Alberta Innovates, Department of Economic Development and Trade, and the Province of Alberta, as announced at NANUC by the Minister of Science Kirsty Duncan in 2016.